On Thursday the Radiation and Nuclear Safety Authority of Finland announced a serious disruption at the Olkiluoto nuclear power plant. The disturbance led to full preparedness on the part of the authorities. As a consequence, Finland had to import 2300 MW from Sweden. It's a lot of effect! Sweden was not much affected by this disturbance, where the frequency only dropped to 49,693 Hz, nor did it affect voltage.
The following info came from Svenska Kraftnät (SVK), the electricity transmission system operator in Sweden:
Disruption at Svenska Kraftnät
2020-12-10 10:56:00
Nordic power system frequency – PFK in Harsprånget Trip of 800 MW production in Norway and SE1 after PFK in Harsprånget was incorrectly activated during control plant work and also causes emergency power intervention of 150 MW on Konti-Skan.
Arrived at Susie: 2020-12-10 13:05:52
Disruption at Svenska Kraftnät
2020-12-10 11:22:00
Nordic power system – Frequency. Olkiluoto 2, Emergency power input 5 at Konti-Skan
The nuclear power plant Olkiluoto 2 tripped in Finland with 900 MW. High transmission to Finland via AC lines in the north, continuously about 2300 MW after failure.
Emergency power 150 MW on Konti-Skan 2. Gas turbines, Block 3 and Block 4, in Lahall received start orders.
Arrived at Susie: 2020-12-10 13:29:40
This is what we recorded: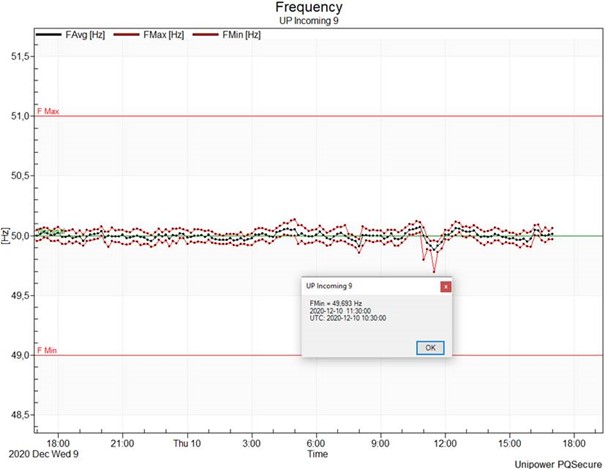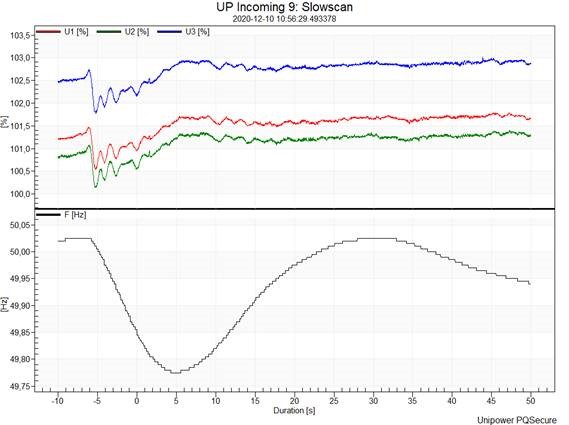 Comments are closed.